12/6/11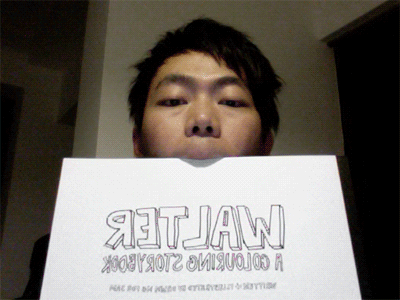 Brilliance by dear friend Dawn Ng
"WALTER-A Colouring Storybook"
Have a poke at Walter Fattie bunny at Singapore Art Museum and check out Superhigh too.

Yes for kids, every one of us. 
7/6/11
how
How to write sharper, softer and faster? 
a. dip your head into a basin of softener (try Snuggle)
b. be soft hearted, donate to the obviously fake beggars (for their effort to be fake)
c. bitch in the sharpest pitch as possible
d. attach Tamiya engine to the pen
e. all of the above
f. some of the above
g. some of the below
h. write something different to make it looks like it's intelligent, and remember to explain it slightly so as everyone kind of get it. (this post itself is trying hard to be) 
i. scribble unrecognizable writings in light speed
j. slow your physical self down while speeding up mentally
k. go run away at the field and be a nut
l. eavesdrop your friend's conversation
m. don't tell them you're eavesdropping, to justify the term eavesdropping
n. ask Casper the friendly ghost to write for you
o. read such a lengthy and naggy post like this one
p. type LMAO but not really laughing your ass out to a post, as a form of politeness
q. not feeling weird being expected in your action, thoughts, words etc.. (feeling naked)
r. none of the above
Anonymous said:Hi! I really like your blog :) May I know what program you use for drawing? teeheee :)
Thanks there!
I draw the line with pencil and ball point pen, and clean up a little after I 'scan' it (old digi cam). Pretty vernacular haa.. :)
3/6/11
3 known instances that helps with inspirations
- listening to someone bitching
- shitting / peeing
- driving / cycling
- moment before sleep
- showering

and some that didn't help
- staring at the sea with a pseudo poet posture
- acting cool at a cafe role playing as a thinking man
- watching profound tv (eg. The Big Bang theory)
- petting cat
- rolling on the floor not laughing
- locking in a quiet room
.
.
.
.
. 
yinyeetai
said:////Your thing is awesome, keep posting!
haa.. many thanks!
You too, keep the artworks going! :)
Theme by theskeletonofme